Open Studios 2017
Our very own Julie Koch of Venersborg is showing her art: mosaic glass and mixed-media, as artist for Clark County driving tour of art studios, Saturday-Sunday, November 11-12, 10am-5 pm. Her studio is located at 22222 NE 209th St. Battle Ground, down the road west of the school house.  Julie is one of 53 featured local artists who look forward to displaying their wares for you over this particular pre-Holiday weekend.  For more information, email: julie@odd-dog.com,  or visit the website:   http://ccopenstudios.org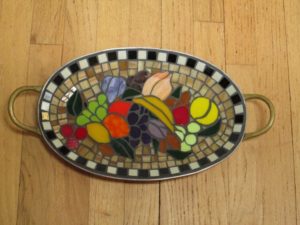 Many Venersborg residents showed up at the Yacolt Primary School for the Democratic Presidential caucus on Saturday, March 26th. Folks making their voices heard included Jane and Nick Larson, Eunice and Randy Ingermanson, Emily Meek, Carol Frame, and Joseph and Jacqueline Freeman. Jane took the position of vote counter and Joseph acted as secretary.
After the voting we chose delegates and alternates to represent our area at the upcoming Legislative District Caucus in April.
The Venersborg precinct matched the rest of Washington state with an overwhelming majority — 89% of the vote — going to Bernie Sanders.